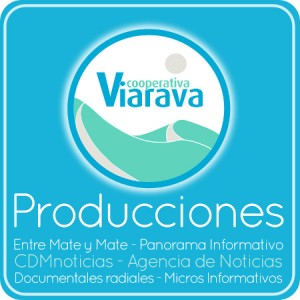 To strengthen local and regional development and identity by generating community broadcasting spaces and collective initiatives that foster social inclusion; and to promote the democratization of access to information, services and cultural assets, contributing to the full exercise of human rights, Viarava Productions works from the following spaces:
Entre Mate y Mate
, daily news radio show with local and regional coverage. Music, interviews, news reports and all the daily updates for Punilla Valley, from 11 a.m. to 1 p.m. for FM del Sol – 88.9Mhz – 90.3Mhz
CDM Noticias, Capilla del Monte news agency
. News portal that promotes the work of popular communicators in the collective construction of updated news reports on politics, economy, culture, environment, human rights, etc.
Crece la voz
, a healthy lifestyle radio show that promotes the sustainable development of the local community by fostering agroecological farming and permaculture, especially in regional family and community settings.
Tierra fértil
: short radio news item aimed at sharing the activity of family agriculture specialists and producers in the province and fostering family agriculture in the region.
Uritorco Radio
: We are currently working to put Uritorco Radio on air, a community broadcasting radio cooperatively managed to guarantee the human right to communication for all social actors in Capilla del Monte and the Punilla region.